Visiting Caribbean Genealogy Library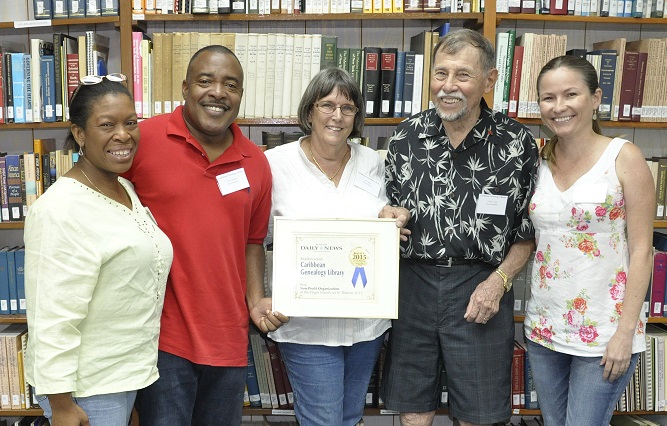 The Caribbean Genealogy Library (CGL) is a unique and valuable research library located on the island of St. Thomas, U.S. Virgin Islands. Established in 2000, CGL is a leading resource for family history research in the Virgin Islands and in the Caribbean at large. We provide services through the libraryís collection of books and historic records, workshops, lectures and a resource-rich website; allowing researchers of all levels to explore their past. We are a member-based non-profit dedicated to the study of genealogy, history and culture. CGL is operated solely by memberships, donations and volunteers.
Planning your Visit
On this website under Resources you will find the CGL card catalog, index of microfilmed records and other resources that are part of the CGL collection. Be sure to go through them in preparation for your visit. Look through the lists of resources to orient yourself with the collection and to identify which records would best serve you and what you are researching. This will help you make the best use of your actual research time at the library.
Hours
Caribbean Genealogy Library is open:
Wednesdays: 1-5pm
Fridays: 12-4pm
Saturdays: 11am-2pm (email to confirm Saturday hours)
By appointment: please email your request at least 10 days in advance of the date you are interested in visiting the library.


The library is typically closed on major holidays like New Years, Thanksgiving and Christmas. Please call (340) 714-2136 or email us to inquire about holiday hours.

If you are planning a research trip to St. Thomas and need more time at the library then the regular hours provide, then please email us with further information and dates of your visit.



Admission
CGL is member-based; admission is free for current members. Non-members are welcomed to visit; day passes are available for purchase at $5 a day. Or
become a Member.
Group Visits
CGL welcomes visits by groups from genealogical and historical societies, schools, churches, youth groups and other organizations. Our volunteers can provide a tour of the libraryís resources and cater to your groupís interest. Please provide at least one monthís notice before bringing a group to the library to allow time to coordinate your groupís visit.
Location
Caribbean Genealogy Library is located in Al Cohenís Plaza; at the top of Raphune Hill on St. Thomas, USVI. The library is on the 2nd floor of Building 3. It is above the Paint Depot; and next to Mango Tango Art Gallery. See Map for more information: